#15) MILTON H. RUSH...Born in 1866 in Goodson, Va., the son of Emmert B. Rush.The first reference to Rush I have found dates to 1896 when he was a Yardmaster for the Railroad. In 1902, he negotiated for a franchise to distribute Coca-Cola on a small scale in the Bristol environs, acquiring his shipments from Roddy (Coca-Cola) Mfg. Co. of Knoxville. There is some evidence he was affiliated with the Bristol Bottling Works, possibly as early as 1890.
1905...M.H. Rush was listed as an Agent for the Anheuser-Busch Brewing Co. and the Chattanooga Brewing Co. In September of 1906, Rush sells his interests in Coca-Cola, ( franchise), to a Col. Howard of Rockwood, Tenn. Yet, in 1907, there is a Rush Bottling Works listed with M.H. Rush as Proprietor and advertisements for same in the Bristol papers. I have yet to establish just where his works were located, but it's a possibility he was in J.W. Waynick's old works near Diamond Ice Co., whether prior to or after Diamond Bottling Works was established is unknown.
***difficult to imagine why Rush would sell his Coca-Cola interests yet still remain in the bottling business.
A 1907 ad states he bottles Colas & , is the Agent for the Pabst Blue Ribbon Brewing Co. The last listing I could find was in 1923 - Rush Bottling Co.- Warehouse - 33 Washington St.
M.H. Rush was a prominent business man, no known financial troubles, a dapper dresser and an all around clean fellow. Have yet to locate a date, but at some time, Rush "left" Bristol. Not a trace was heard from him ever again. Rush left behind a considerable balance in a local bank, which remained dormant for years and was discovered by his widow by accident.
* There was an incident in Feb of 1907 when Rush had an altercation with a local policeman named Lewis. Rush knocked Lewis to the ground in the Union Depot , in retaliation for Lewis insulting him. Lewis got up, drew his gun and fired a shot at Rush , which missed. Luckily, it missed the passengers and other people then mingling in the crowded station.
#16 JEREMIAH BUNTING - Established Buntings Drug Store by 1869 in the building formerly owned by Fowler & Gibboney. In 1870, Bunting is manufacturing Patent Medicines: a Tonic & Alterative Bitters, a Nervine, an All-Healing Ointment, and a Tonic Bitters. In 1873 Bunting becomes partners with C.T. & W.H. Pepper on Front St. By May of 1880, Bunting is partners with John R. Dickey at #6 James Block. In 1885 Bunting is partners with William Wallace. In 1889, Bunting & Son is formed. In 1896 the address is 420 Main St. In 1905, 418-420 State St. In 1909, 420-422. It's in 1909 that Lindsay Bunting sells the drug store to Joseph W. Jones and J. Ernest Long, who continue to operate as Buntings Drug Store for decades. ( to be continued)
#17) JOSEPH W. JONES & J. ERNEST LONG - In 1907 Jones, who had formerly worked at Dixie Tannery, Strother Drug Co.,Sharp & Dohme of Baltimore, and at Bunting & Son, established Jones' Pharmacy. This business closed in 1909 when Jones entered into a partnership with J. Ernest Long of Blountville. Long had previously worked at his father's drug store in Blountville, Strother Drug in Lynchburg,VA., and at Turner's Drug Store. The two men purchased Buntings Drug Store, with the condition that it retain the Bunting name.
At one time their pharmacists were: John Chambers formerly of Colbert's Drug Store, Lawrence Keister formerly of Carson's Drug Store in Radford, VA., and of Kuhlman's Drug Store in Knoxville, and Chas. M. Delaney ,Jr. who was employed in 1925.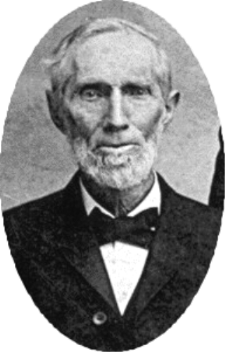 #18) William Henderson Nickels, Jr., son of William Henderson, Sr. and Rebecca (Evans) Nickels, was born March 27, 1832 in Nickelsville, Scott Co., VA. He died March 15, 1916 in Duffield, Scott Co., VA. William was a merchant before and after the war, operating the Nickels House Bar, ( former Exchange Hotel), in Bristol with his brother Isaac in 1866. William enlisted as a Confederate soldier with Co. C of the 64th VA Mounted Infantry on February 19, 1863 in Washington Co., VA. He was promoted to Commissary Sergent before August 31, 1863.
William married first Elizabeth Duff. He married second Sarah Lawson. William and Elizabeth had seven children: Samuel Tipton Nickels, William Barlow Nickels, Martha "Mattie" Nickels, Nancy Elizabeth "Nannie" Nickels Parrish, Margaret Louise Nickels Horsley, Alice Nickels, and Patrick Nickels. William and Sarah had one child: John Thomas Nickels.
#19) William Washington "Barlow" Nickels, son of Walter H. and Jane (Kilgore) Nickels, was born January 28, 1838 in Nickelsville, Scott Co., VA. He died September 12, 1909 in Gate City, Scott Co., VA. He was a merchant by trade, operating the Exchange Hotel in Bristol in 1862 with A.L. Womack. He served with the 25th VA Infantry during the Civil War.
Barlow married Sarah Elizabeth Richmond on October 23, 1860 in Scott Co., VA. Barlow and Sarah had four children: Robert Henderson Nickels, Patrick Henry Nickels, George Emmett Nickels, and Isaac Benton Nickels.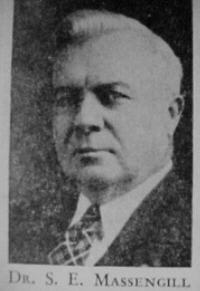 #20) MASSENGILL BROTHERS.... were established about 1897 in a small building on Moore Street in Bristol,VA. (Later the building would house the Mick or Mack store.) Samuel E. and N.H Massengill were the proprietors , at this time selling the Connors' line of medicinal products.
S.E. Massengill spent his early manhood on his father's farm in nearby Blountville,Tenn. After his marriage in 1895, he became a salesman for the Arthur J. Connor Company of Boston, Mass., manufacturers of of pharmaceuticals and patent medicines. He continued his employment with this comnpany while studying medicine, graduating from the University of Nashville in 1899.
About 1898, the Massengill Brothers purchased outright the Connors stock and began manufacturing their own preparations. The first piece of equipment they purchased was a $25 hand-operated tablet machine. Larger quarters became a need and a part of the old YMCA building on 5th St. was leased. Additional workers and salesmen were employed.
The Massengill Brothers Company was incorporated in October 1906. Soon after incorporation the Company expanded into the wholesale drug trade.
Elected officers after the incorporation were: Dr.M.L. Fowler, Col.J.M Barker, Major J.C. Wood, N.H. Massengill, and Dr. S.E. Massengill , Directors. Dr. S.E. Massengill was President, Fowler and Barker were Vice Presidents , and N.H. Massengill was Secretary-Treasurer.
Because of gradual growth of the business, larger quarters were again required, and in Nov. 1907, Massengill Brothers Co.,Inc., rented a four story brick building on 4th St. that had been previously used as a tobacco factory by Maj. A.D. Reynolds.
In 1917, the Massengill Bros.Company,Inc. stock was sold to a Nashville firm, and S.E. Massengill, who had opposed the sale, was allowed to use his own name in organising another business. Following the sale he purchased the old King College building on 5th St. He began operating as an individual under the name of....
S.E. MASSENGILL COMPANY...and for several months Bristol had two pharmaceutical concerns operating as competitors. This situation was dramatically ended the night of Sep.18, 1917, when a fire originating in an adjoining building quickly spread and almost completely destroyed the Southern Pharmaceutical Company's place of business. In the end the lawyers for the defunct company arranged for Dr. Massengill to bid in their total assets at a Chancery Court sale for $120.
Thus began a period of expansion and developement that was to convert S.E. Massengill Company from a small local concern into one of national prominence.
Additional salesmen were employed and the trade area was soon enlarged to include all of the southwestern states. Before long the name of S.E. Massengill products had extended beyond the traveled area and the firm was serving many customers in the northern and midwestern states as well.
The first of the distribution houses was opened in Kansas City in 1922. The New York branch was opened in 1928 and the western division or San Francisco branch, in 1934. This marked the beginning of complete national distribution. Actual selling to foreign companies began in 1937 and spread rapidly. The export offices were in New York and the manufacturing and over all operation was in Bristol.
After the death of S.E. Massengill on Dec. 14, 1946, Frank W. DeFriece was elected President of the company. Other officers at this time were: Harry M. Frehn - Executive Vice President , Frank W. DeFriece ,Jr. - Vice President and General Manager, and Pauline M. DeFriece, Secretary.
#21) JOHN FRANKLIN BRISCOE & BRISCOE DAIRY
Info provided by Will Witcher:
My great-grandfather, John Franklin Briscoe, owned and operated a dairy farm right outside of Bristol in the early 20th century. The property, located on Weaver Pike between the present day Southern Railroad overpass and Highway 394, was originally purchased by my great-great-grandfather John Peter Briscoe in 1907, and encompassed 238 acres. At the time of the purchase John Franklin Briscoe was 28 years old, had recently completed his education at King College, and assumed management duties of the dairy. The dairy soon became a profitable business, serving the hospital, drug stores, and hotels in Bristol. A new barn and milk processing building were constructed on the farm in 1917. John Franklin Briscoe continued to operate the dairy into the 1950s, later ceasing milk delivery and selling wholesale to Godsey's Creamery on Southside Avenue. The dairy ultimately ceased operation upon his death in 1959. Much of the farm remains in my family today, including the 1917 barn and milk processing building. The farm is currently owned and managed by my grandparents, Clarence and Martha Briscoe Witcher.
According to my grandmother, who grew up on the farm in the 1930s and 1940s, the milk bottles used did not contain any markings indicating they came from the Briscoe Dairy. However, the bottle caps did bear the dairy's insignia. My grandmother has a couple of the caps in her possession, which are the only caps known to exist today. Additionally, she has a two of the original 5-gallon containers in which the milk was stored prior to being bottled. One of these containers bears an identification tag associating it with the Briscoe Dairy. My grandmother has published two volumes of our family history - Sullivan County, Tennessee Kin, Volumes I and II. Both of the books are located in the geneaology room at the Bristol Public Library. Much more detail and background information on the dairy are found in Volume II.